That's how guaranteed brand quality arises
Those who are familiar with the German company Diesel Technic and the two associated product brands DT Spare Parts and SIEGEL Automotive know: You can rely on these products. After all, it is our core competence to develop branded spare parts in guaranteed quality to meet the varied requirements. In the process, we benefit from our proven expertise over many years in the automotive industry.
We meet our high quality standards with our specially developed Diesel Technic Quality System (DTQS). This assures a consistently high guarantee and ensures that the products are optimised continually (Continuous Improvement Process = CIP). The quality management is also certified according to DIN EN ISO 9001:2015 and moreover implements numerous Best Practice methods. But what is the secret behind it?
DTQS guarantees consistently high level of quality and continual product optimisation. The central interface between product management, engineering & development and quality management is the Computer Aided Quality System (CAQ).
The DTQS consists of four processes that are related to each other: Product development, initial sample inspection, series inspection and aftersales support.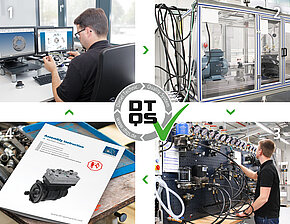 The core processes of DTQS:
Find out more: