Born in Germany, at home in the world
The heart of Diesel Technic beats at the company headquarters in Germany. The central departments of Diesel Technic are located here. We continue to perform core tasks such as product management, product development and comprehensive quality management at our headquarters in Germany.
41 000 products
Full range of automotive parts and accessories
24/7 eCommerce
Partner Portal for all products and services
First class logistics
Fast and reliable supply of spare parts
360° full-service
Support with Pre-Sales-, Sales and Aftersales-Service
The team of Diesel Technic SE supports distribution partners in countries that are not supported by a subsidiary.
The Partner Portal provides you with an eCommerce solution as a 24/7 procurement platform with service center. The team offers the distribution partners individual all-round support including active support in pre-sales, sales and after-sales – also in a personal dialogue at your premises.
We are looking forward to your enquiry!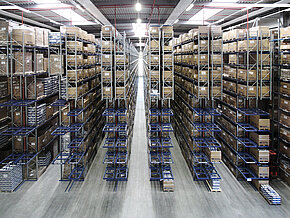 Thanks to high availability of articles, state-of-the-art storage technology and tailor-made logistics solutions at Diesel Technic, the fast and reliable supply of spare parts to distribution partners and their workshop customers is ensured. This increases productivity and minimises vehicle downtime.
Optimal packaging protects products against damage during transport and storage, thus avoiding unnecessary time loss and high process costs and ensuring the satisfaction of workshop customers.
The professional support of distribution partners in shipping and customs processing guarantees a smooth supply chain from the supplier to the end customer.
Diesel Technic SE offers the following delivery options depending on customer requirements:
Pick up from the central warehouse in Kirchdorf: 2 hours after order transfer (only for CEP orders)
Night-Express Germany: when ordered before 18:00 – delivery on the following day until 8:00
Express-Service Europe: when ordered before 17:00 – delivery on the following day (for most destinations until 12:00)
Shipping by air freight: fast handling thanks to the costums status as "known cosignor"
Shipping by sea freight
Direct delivery to end customer (if desired)
Business hours
24/7 service via Partner Portal
On site: Monday to Friday, 07:30 - 18:00 (local time)
Legal information
Reg.-No. HRB 207895 Amtsgericht Walsrode
TAX-No. 45/200/00695 Finanzamt Sulingen
VAT-Id. DE 116579235 · GLN 4047755, 4057795
Board of Management: Dr.-Ing. Steffen Vondran (Managing Director, CEO), Susanne Küfe-Vorholt, Frank Behrens, Ralf Nädtke