Demand-actuated logistics solutions
Diesel Technic's distribution partners and their workshop customers benefit from high article availability and reliable, punctual deliveries. Thanks to state-of-the-art, computerised storage organisation and technology, decentralised warehousing and demand-actuated logistics solutions, distribution partners supply their workshop customers with Diesel Technic products in a flexible and time-optimised manner. Vehicle downtimes are minimised and so productivity is increased – worldwide.
The logistics services for distribution partners in shipping and customs processing guarantees a fast and secure supply chain, if required directly to the workshop customer. It includes the obligatory compliance checks, but also the handling of goods exports and imports to all countries of the world.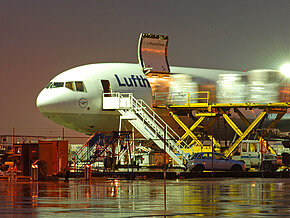 The status as an officially recognised "Known Consignor" at the German Federal Aviation Office (LBA) and the AEO certificate from customs shorten international transport times. It declares air freight shipments of Diesel Technic SE as "safe" and helps to guarantee the high punctuality of air freight.
The AEO certificate (Authorised Economic Operator) is awarded to particularly reliable and trustworthy companies after certification by customs and guarantees privileged treatment in customs clearance. Diesel Technic's distribution partners and their workshop customers receive their shipments without any loss of time.
The perfomance of Diesel Technic is particularly reflected in the various delivery options at the different locations, for example: